March marks a year since the NBA suspended the 2019-2020 season due to the COVID-19 pandemic. The league's efforts to keep players and staff safe while maintaining high entertainment value for fans and brands are paying off. Recent reports show audiences have acclimated to the new COVID-19 NBA experience.
NBA viewership is up across both linear and digital video platforms at a crucial moment in this year's season. In this article, we're unpacking why the 2020-2021 NBA season is captivating fans and stoking online conversations in ways that should be front of mind for advertisers and brands looking to make a lasting impact with young and engaged sports fans this Spring.
Fans Are Showing Up Early
February marks a significant shift every year in the sports world as all eyes fall on the league and its key events: the upcoming All Star Weekend and the NBA Playoffs.
However, even during the early months of the season, NBA games were gaining considerable momentum and fans were clamoring for moments to watch across all platforms. League viewership saw an increase of 34% across top broadcast networks including TNT, ESPN and ABC through MLK Day, over the comparable 27-game period from last season, according to Nielsen Media Research. Viewership on NBA League Pass, the league's live game subscription package, on MLK Day grew 46% compared to last year.
This growth in viewership is being experienced across digital platforms as well. The association's social media platforms have generated record engagement season-to-date, with a 201% increase in minutes watched compared to last year. What does this surge, specifically in social video viewership, mean for brands and advertisers?
"Growth in interest translates to growth in influencer engagement, which is a key way for marketers to reach young demographics."
YouTubers Are Leading the Way
The overall boost in viewership of NBA IP is most prominent with "cord-cutter" and "cord-never" Millennial and Gen-Z viewers, who increasingly prefer social video platforms for sports content. This not only points to the type of video formats that have become popular with younger fans but also to a preference by these target audience groups to watch sports content through the lens of their favorite creators rather than watch full games. According to The TradeDesk, this trend is here to stay. Cord-cutting is projected to ramp up in 2021 across all ages but most prominently with the 18-34 age market – the league's largest viewer demographic.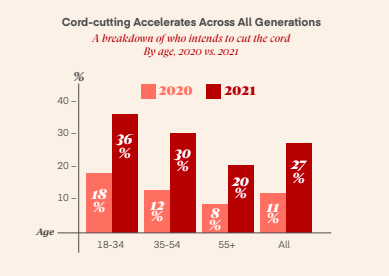 NBA video content casts a wide net within the digital video space. From clips & commentary, NBA 2K gaming to basketball lifestyle and peripheral entertainment, YouTubers are fast becoming central for young fans engaging with the NBA culture. However, YouTubers are also a cost effective entrypoint for brands and advertisers looking to participate in the NBA content and its target audience. BBTV's exclusive NBA Playmakers network sees 26.5 million monthly hours of NBA and basketball content watched in the U.S. With a select group of creators whose content speaks directly to Millennial and Gen-Z audiences in authentic ways, the NBA Playmakers network is ranked as the most engaging NBA content across sports networks, beating Bleacher Report, ESPN, and Barstool. When catering to Millennials and Gen-Z sports fans, the medium is just as important as the message.
The NBA Spring Tentpoles
The recent uptick in viewership compared to this time last year is significant as the pandemic had not yet reared its head. With 2020 attention in many ways split with politics and social issues, the league is experiencing a renewed interest from sports fans as well as benefiting from the overall surge in viewership across digital platforms, namely YouTube.
While the 2021 NBA All-Star Game will look different in the pandemic-era, the highly anticipated event will continue to be a key tentpole event for adults 18-49 but specifically with young adults between 18-34.
As the NBA All-Star Game inches closer, it is estimated to drive 42M monthly impressions and 20M monthly uniques in the U.S., and will be a driving force for YouTube content and conversations across social media.
The NBA Playoffs are also set to begin on May 22, 2021, offering brands and advertisers a lengthier campaign experience. With more fans tuning into NBA content on YouTube this year and earlier in the season than anticipated, there is a unique opportunity to reach your target audience more effectively this Spring.
Get a headstart on these two key tentpoles by advertising on BBTV's NBA Playmakers network. With a talented core of influencers and creators in the basketball and lifestyle vertical reaching tens of millions of subscribers, NBA Playmakers delivers the most engaged audiences and hundreds of millions in monthly views. From clips and commentary to lifestyle and NBA2k content, our content is at the center of basketball trends and content.