There are two major assumptions about digital video that have been dispelled by the continued success of long form content:
1) that online video has to be short and sweet, and
2) younger audiences are unable to stay attentive for long periods of time.
These assumptions about how young audiences digest social video flatten and oversimplify digital video trends, viewing habits, and the diversity of audiences. While short form social video platforms like TikTok or the new short form platform Quibi are gaining popularity and attention respectively, their arrival doesn't mean that long form video is phasing out. In fact, the opposite is true.
Today's digital video space is massive, and what sells both creators and audiences is having options – lots of them.
That means there is enough opportunity right now in the digital video industry for both short and long form videos to thrive, while the platforms that host them are showing zero signs of slowing down. Let's take a deep dive into why long form videos continues to rise and why that's a good thing for creators and brands alike.
A PrimeTime Contender
Finding its way into the living room has put digital video content in contention for primetime viewing, There is a greater need for long form videos as TV viewing habits continue to lean towards SVOD and digital platforms like YouTube, particularly among younger demographics. This affects how creators approach content creation and continues to turn brands' attention more directly to the possibilities of reaching target audiences via video platforms.
Grow Your Ad Revenue and Audience with Long Form Videos
Many creators are pivoting their content strategies to incorporate longer videos and are finding success in doing so.
When it comes to ad revenue, long form video creates more opportunity for advertising throughout your video. If your video runs over 10 minutes, it becomes eligible for mid-roll ads, which means you're maximising your content for more ad space. Due to this increased monetization potential, longer videos with strong watch times are naturally promoted by platform algorithms.
Wired Magazine explains in their 2018 article on longer YouTube videos, "landing a TV show used to be the endgame for many YouTube creators (and for some, it still is), but others are effectively turning their YouTube channels into TV shows instead".
Rather than waiting for a TV deal to come about, many creators are leveraging their audience, channel analytics, and the power of being a digital influencer to pave their own way.
Most notably, YouTube superstar Shane Dawson pivoted his content strategy in 2018 to long form docuseries investigating the lives and controversies of fellow YouTube stars. The shift into long format series, ranging on average from 45 minutes to an hour long per episode, has seen his already massive viewing numbers double, triple, and even quadruple in size.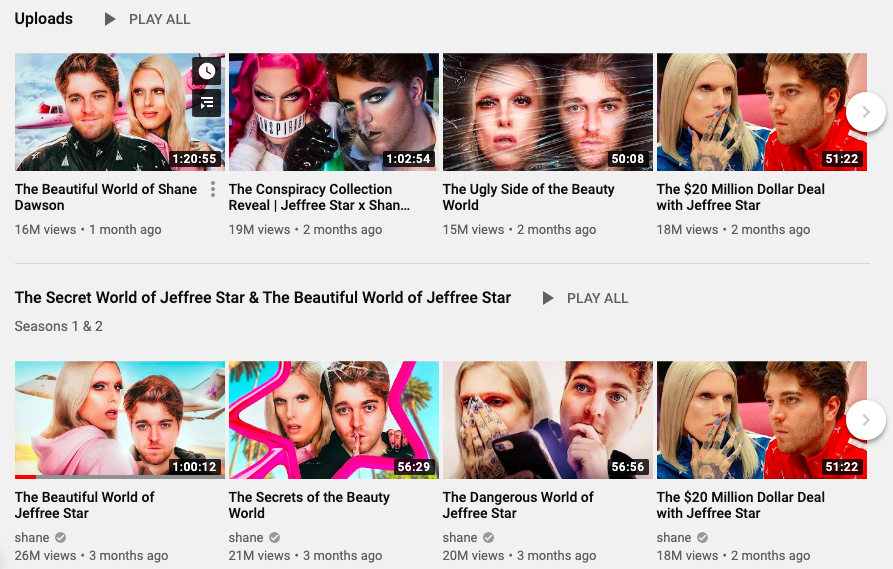 His famous series premiere centering on the life of beauty vlogger Jeffree Star saw over 494K views in 15 minutes! While Shane Dawson has already cemented himself as a massive creator with a dedicated fan base, his decision to change his content strategy on YouTube remains important in the conversation of the legitimacy of long form videos. It also points to the need for all creators and content owners to remain nimble in the fast-paced world of digital video.

Take Sam the Cooking Guy's series "The Best…", which explores a simple idea of finding the best food or recipe that can be recreated by Sam as well as his audience. With episodes ranging in time length, his most popular episode in the series and on his channel clocks in at 31 minutes with 3.5 million views to date. Far from an anomaly, Sam's longer videos tend to match the timing of tv cooking shows, proving that digital audiences aren't looking for just short term entertainment as much as they're looking for quality content at their fingertips whenever they need it.
How Brands Benefit from Long Form Videos in their Content Strategy
Today's viewers are savvy to marketing strategies. In return for their attention, they ask for creativity and authentic viewing experiences by brands.
Companies that are looking to deepen their purpose and relatability to consumers should consider incorporating long-form videos in their overall digital strategy.
This could mean leveraging an influencer's engaged audience through branded content or creating an original series on their own channels that resonate with target demographics through well optimized videos and premium production.
Long form video has always found success on YouTube, but within the last few years the video giant has encouraged longer content and channels that promote longer watch times on the platform overall. Other social media powerhouses are getting in on the action and have developed their own video platforms specifically targeting longer show formats such as Facebook Watch and IGTV.
Long form video doesn't simply exist to satisfy the sometimes seemingly elusive algorithm, it encourages well-produced and thought-out content that contributes to the health of platforms by creating dedicated audiences, driving ad sales, and boosting meaningful content. In short, everyone wins. 
If you need help and resources in creating long form video content, or building a strategy for it, connect with our team at BBTV! Build your audience and nurture your relationship with your followers with the help of our team's industry pros.