We're sharing a list of trending, high-performing types of YouTube videos that audiences love and that you should consider adding to your content strategy.
Over the last few years, YouTube videos have transformed the way we consume information and communicate bigger ideas. 85% of Internet users in the U.S. watched online video content on their devices monthly, with over 54% of consumers hoping to see an increase in video content from a brand or business they support.
That's why YouTube's trending content is so important for brands and creators alike to visualize or represent who you are, and what you're offering to viewers. We're sharing a list of trending, high-performing types of YouTube videos that audiences love and that you should consider integrating into your content strategy.
Vlog/Behind-The-Scenes
Product Reviews
Unboxing Videos
Tutorials/How-To Videos
Podcasts & Interviews
1. Vlogs
Video blogs or "vlogs" for individual creators and smaller brands are a great way to give your followers and fans the feeling of insider and unfiltered access. Vlogs are a great way to story-tell and demonstrate your 'human side' with your daily routine, transit or lifestyle, helping you connect and engage with your audience through your relatability.
Up to 50% of people between the ages of 18-34 would stop everything they're doing to watch the newest video from their favourite content creator. This shows how much power you have as an influencer in driving video traffic and views.
While Vlogs are great for engagement, they are also cost-effective and less time consuming with regards to production. Not every video needs to be of cinematic quality; it's an authentic and easily-digestible form of content.
CJ SO COOL is a great example with some of the most popular and entertaining vlogs captivating over 8.5 million YouTube subscribers. He gives viewers a look into his personal life, what he does with his family, and an exclusive access into his life of luxury.
2. Product Reviews
Product reviews are an excellent way for brands to increase visibility and awareness. But, why would this matter for a creator?
72% of people would rather learn about a product or service by way of video.
As a creator, you can use this data to your advantage by reviewing, rating, and testing different products with the aim of helping your audience make their next purchase (or avoid it). It's a straight-forward form of video content that speaks directly to a specific audience, depending on the product you're covering. There's a reason why over 50,000 years worth of product review YouTube videos have been consumed on mobile in the past two years.
If you're a creator reviewing brands and products that belong to a specific industry or niche, you can develop a targeted following or audience. If you manage to acquire a large, consistent viewership, you can gain opportunities to work with a variety of brands that may be willing to sponsor your videos, pay for ad placements, and more.
One of the best product reviewers on YouTube is randomfrankp, who reviews some of the best tech at different price points from a variety of brands that both tech lovers and the average Joe can enjoy and benefit from.
3. Unboxing Videos
Unboxing Videos are an extension of both a fashion haul and a product review, but the difference between them is the surprise element.
With the challenges of the pandemic limiting in-person purchases and shopping, online shopping and deliveries have become more prominent than ever, a reflection of the growing popularity of unboxing videos on YouTube.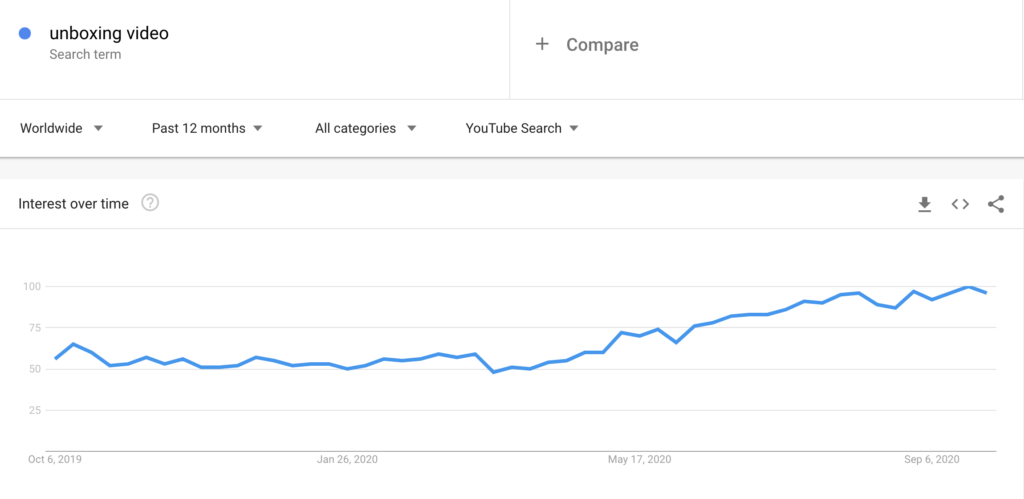 It's a trend that doesn't look like it will slow down anytime soon, and it's another cost-effective and time-efficient way to produce more video content for your audience.
As a creator, you can leverage your influence on your audience simply with your opinion on the packaging, presentation, fit and/or performance of a product. Your viewers who have an interest in what you say, will gravitate towards your perspective, impacting their purchase decisions.
4. How-To Guides, DIYs and Tutorial Videos
65% of people use YouTube to solve their problems, which means people are looking for answers to many burning questions, some as simple as 'how to change a lightbulb.'
Viewers don't just want to be entertained, they're curious in acquiring new skills, information, and learning content.
That's why more than 7 in 10 viewers often use YouTube videos to solve their problems connected to work, studies, or their favorite hobbies. Videos with the label "beginner" in the title have also amassed over 9 billion views globally in 2020.
Your ability to impart your knowledge on a specific topic or subject is a large value add to your audience, considering the amount of viewers searching for 'how-to' guides and tutorial videos. This includes the surge of online learning due to the pandemic.
Watching someone put something together as they walk you through how to do it has become a more effective process of educating someone.
How-To videos can be about anything from fixing a car to applying makeup. Eliza Rose has an awesome playlist of makeup tutorials that are both entertaining and easy to follow along with.
5. Podcasts
Podcasts are similar to vlogs because of the raw, unscripted nature of answering questions and creating a conversation. There's still a level of prep behind it, but how someone answers your question, or how you answer theirs is a free game.
Podcasts are an excellent way of building your brand's authority and credibility because of the interaction between two or more people that offers either influence, knowledge and expertise, entertainment value, or viewership.
With over half of all US consumers above the age of 12 listening to podcasts consistently, they're also a great source of driving traffic and growing a viewership.
Podcasts are also consumed on a mobile device 65% of the time, with 3 out of 4 people tuning in to podcasts to learn new things. These stats display both the level of interest and power behind a podcast with guests and known names, and the high-level of consumption especially during these on-the-go times.
One of the best podcasts to date, is the H3 Podcast, bringing in celebrities we all love and know to talk about controversial topics, gossip and rumors, life as a celebrity, and a variety of other spicy subjects.
What do you think about these trending YouTube videos? Try incorporating them within your content strategy to see how you can leverage your influence, and impact your audience in a new way. You should start to see those views grow and new subscribers adding up in no time!
Partner with BBTV to learn how you can improve your video content strategy to impact your audience and grow your subscriber base. Get help from industry pros within our channel growth team to take your video content to the next level.