Steps You Can Take to Improve Your Personal Environmental Footprint
In the midst of such unprecedented times, this Earth Day is starkly different from the 49 that have come before. But, maybe that's exactly the wake-up call we need. This year, we can't hit the streets to march in protest for climate action. Instead, we can go digital.
And if we do, a quick Google search serves us numerous articles on the recent pollution declines as a result of the interruptions to usual activity. Recent research predicts the COVID-19 pandemic could lead to a 5% drop in carbon dioxide emissions in 2020, the likes of which haven't been seen since the end of WWII. The two weeks after Chinese New Year in China saw an estimated 25% drop in carbon dioxide emissions nationwide, compared to the same period in 2019. Italy too has seen a considerable reduction in nitrogen dioxide emissions captured by satellite imagery. These reductions can all be attributed to the pause in activities, such as travel and manufacturing, due to the COVID-19 pandemic.
While this pause is far from a good thing, it has more clearly shown us the global impact our actions have on the environment. It offers us the opportunity to reflect upon all of the practices we currently view as business as normal, such as deforestation, overfishing, mining and travel. And question whether we should so freely accept them as part of the status quo. So, with climate action the theme for Earth Day 2020, we take a look at what lessons we can learn from COVID-19 and what changes we can make to improve our collective climate action.
Tackle Climate Action Together
The COVID-19 pandemic has brought us all together as a global community in a way we have hardly seen since the first Earth Day in 1970. We are currently fighting for a world where every life is as important as the other and we are all trying to protect the vulnerable. So, how can we learn from this lesson to ensure that moving forwards we take a more active, collective approach to contributing to a greener planet than we were before?
One unexpected area that is being affected by COVID-19 is the deforestation practices of the Amazon Rainforest. Some of which have been forced to halt in order to protect local indigenous communities from transmitting the virus. This reprieve will go a little way towards slowing the rate of deforestation, which environmentalists are saying might have destroyed all but 10% of rainforests by 2030 if we continue at the current rate.
There are many areas, other than deforestation, where we can take climate action together. These include raising awareness around animal welfare, plastic usage or sustainable fuels to name a few. So, as a content owner, is there a climate action topic you feel passionate about that you can raise as a conversation within your audience community? For individuals reading this, are there any business initiatives you can implement within your organization to encourage more sustainable practices?
Learn more about creating content with a cause in our blog.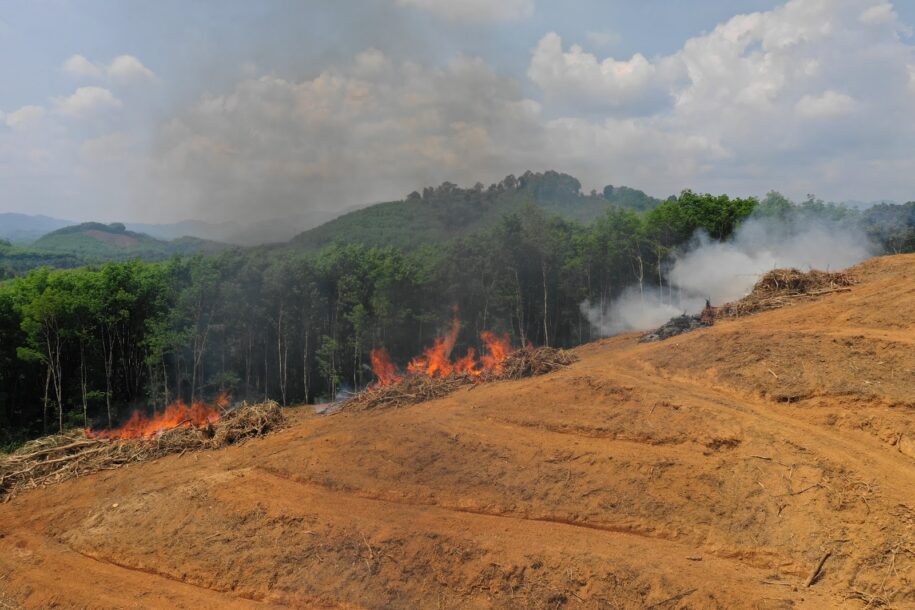 Establish Carbon Offsetting Initiatives
At BBTV, we measure success across four pillars that contribute to our Quadruple Bottom Line. One of these pillars is our impact on the environment. Consequently, in order to operate more sustainably and contribute to a better world, we have implemented a number of green initiatives. One of these is working with the organization Taking Root, planting trees that offset our carbon footprint. The program also focuses on promoting economic development amongst smallholder farmers in Central America in order to restore ecosystems and improve livelihoods.
Another sustainable step we have taken is diverting as much of our waste from landfill as possible. We achieve this through eliminating individual trash cans at desks and having centralized collection areas that segregate waste into core recyclable categories. We are also committed to using sustainably certified paper and have introduced a 'no paper or plastic cups' policy at in-house events. Are there any similar carbon offsetting steps you can take as an individual or as a company?
Rethink Business Travel
During COVID-19, businesses around the globe have seen huge interruptions as individuals have been required to physically distance and work from home. As a result, usage of all connective platforms has seen massive increases. One such tool is Zoom, which at the end of December last year had approximately 10 million daily users and in March 2020 reached more than 200 million daily meeting participants. It's not just impacting adults either. YouTube Kids was the most used app in the first three months of 2020, as children and parents are looking for ways to stay entertained indoors.
Globally, the aviation industry is responsible for 12% of transportation emissions and airline travel continues to increase by 5% a year. However, the recent requirement to rely on technology has proven our ability to adapt and still conduct productive business meetings digitally. Therefore, one climate action lesson we can learn from this is to question whether all business travel is completely necessary. Research shows that the cause of 76% of business travel globally is to meet a client or visit an out-of-town office. We know the value of creators and brands having face-to-face meetings and that it's not always possible to meet digitally. But, if each traveller were able to cut out one business trip a year, imagine the positive climate impact we would have.
Embrace Staycations
While travel is great in so many ways, in recent years we have started to see the negative impacts of overtourism. This refers to the damaging impacts of thousands of tourists visiting certain popular destinations. Thailand's Maya Bay or Komodo Island in Indonesia are examples of this and have been forced to close in order to protect the local wildlife and ecosystems.
With COVID-19 restrictions meaning that we are all required to stay a little closer to home, and international travel still looking like a distant dream, now is the time to embrace the natural beauty of your home environment. Plus, think about how beautiful all of the national parks will be after months of nature being able to flourish, unimpeded by human impact. And how many animal populations will see a resurgence, with many already enjoying the emptier towns and cities.
Easy Indoor Climate Action Steps
Finally, we'll leave you with some ways in which you can look to improve your personal environmental footprint while staying indoors:
Switch disposable food wrap materials for greener alternatives, such as beeswax 
Seek out recipes and inspiration for more sustainable meal choices
Unplug electronics devices when you're not using them
Evaluate your current waste processes and identify areas for diverting more away from landfill 

And most importantly, don't forget the lesson COVID-19 has taught us about making the most of life's simple pleasures such as playing games, being with loved ones, reading a book or being outside in nature.
Looking for ways to keep your audience engaged during COVID-19? Read our tips.